This week has consisted of revision, more revision, and also revision. I've got my first exam next Wednesday, then two the week after, then two the week after that and then I am FREE AS A BIRD. I actually can't wait. The most excitement I've had all week was driving my boyfriend around to take some pictures for his uni project yesterday afternoon. I wore this red dress which makes me feel like I've just stepped out of a Special K advert.
I need to train Adam be more patient with the camera because he takes one when I am mid sentence and then bursts out laughing and doesn't want to take any more after that. I also messed around with the exposure/colour on the shoes pic to try and disguise my chipped nail polish. Pretty boring outfit really but I haven't had anything to make an effort for really.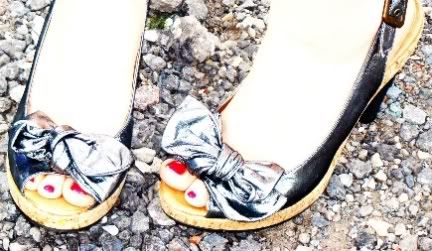 Dress - H&M, Belt and Cardigan - Topshop, Straw Basket - Peacocks, Shoes - Kurt Geiger
We encountered a bit of rough terrain on our travels so these shoes probably weren't the best idea. They are pretty though.
This little cutie was looking at me from behind a charity shop window so I had to have him. Hopefully it will encourage me to save my money instead of spend it on pointless objects... but it probably won't.