So, after having turned my bedroom upside-down to find my camera charger, it turns out I've left it in London. Fortunately my friend is coming back up north next weekend so she'll be able to bring it up.
Until then, I thought I'd just fill the void with random pictures from my iPhone, which, like every other person who got sweet talked by Apple into buying one, I am completely obsessed with and now unsure how life works without one.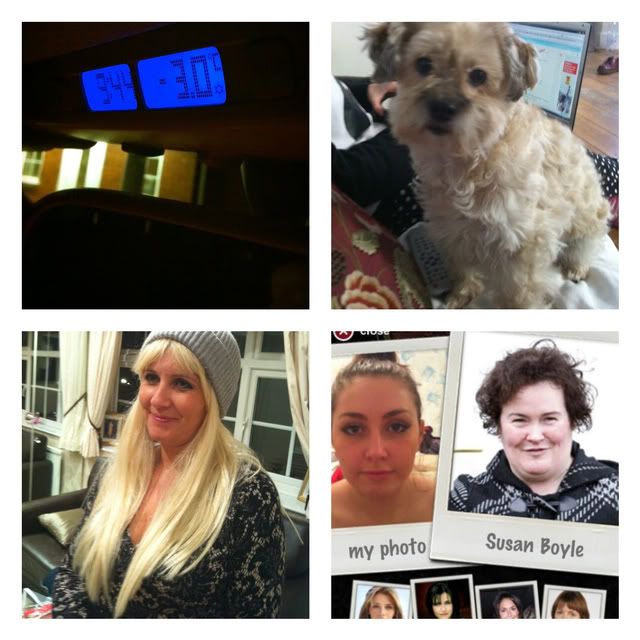 1) It is getting cold and I've just come back from the pool. Swimming is just not as fun at this time of year. Especially when you forget to take underwear with you - putting your swimming costume on under clothes doesn't feel that clever after all... and yes that is a minus in front of the three.
2) This is Alice - this dogster belonged to my friend's flatmate, Christie, who I met at the weekend. She is such a cute pooch and Christie rescued her from a skip where she had been abandoned when she was a puppy - her eyes weren't even open yet and she had to be sat with all night and nursed back to health. Years down the line she is a fit and healthy ball of fluff.
3) My mum in the middle of a wardrobe clear out swapping her usual brunette bob for my old Lady Gaga wig from last hallowe'en - she looks so young and like a different person! I'd like to think that I'm going to age that well, but she doesn't drink and I definitely do which means I'm going to be looking like an old hag in no time at all.
4) Prime example of why I love my phone - one slightly bad picture of my sister and it says she is a dead ringer for Susan Boyle. Brilliant.