These are a couple of pics from Friday evening when I went to a flat party to celebrate my friend's 21st birthday (she is the one in the gorgeous blue dress in the last pic - I forgot to get a proper picture of it). I bought this dress on the Friday from H&M and I love it. I don't usually like things with lace-up bits for fear of looking too tarty, but I think this works because of the girly floral print and longer length. I do look a bit like I'm going to an afternoon tea party rather than out on a Friday night, but I needed to wear this. I curled my hair too but it only stayed curly for around seven seconds, even after using a nearly a whole can of hair spray. Nice to have a slight change though! I think I'm in desperate need of some fake tan on my ghostly limbs.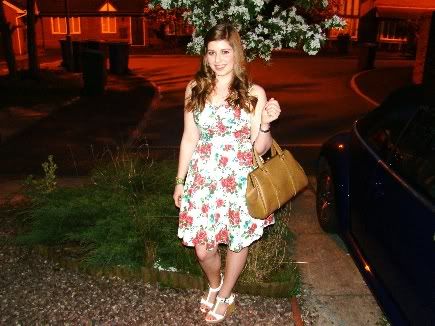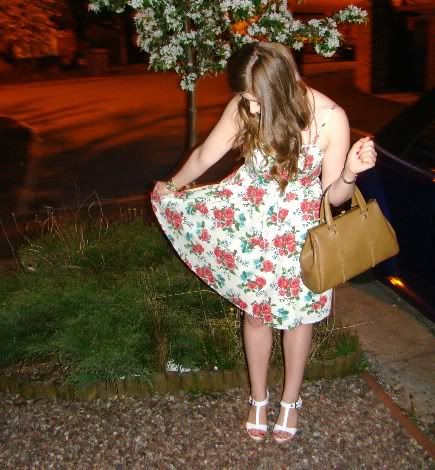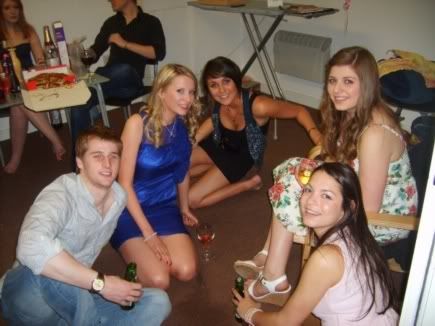 Dress - H&M, Shoes - New Look, Bracelet - Small boutique in my home town, Bag - Vintage
I've got my first exam on Wednesday - Land Law - so I've just been knee deep in joint tenancies and tenancies in common, mortgages and easements for the past couple of weeks... Joy.
Does anyone else's hand go shiny when they write too much - Like the side of your little finger that touches the page? Or is it just me?