Sorry for any really late replies to comments - hopefully I'll be able to do that more promptly now because my exams are over... which means I'm FREEEEEEEEEEEEEEEEEEEEEEEEEEE until late September - a ridiculous amount of time off.

Just a quick post because I am going camping today (I really hope the weather stays OK because it was forecast torrential rain I think - my dad said rather than buying a tent I should invest in an aqua lung - always full of bright ideas).
This is my outfit from yesterday - I don't know why the picture is all bright and wierd but I didn't have time to sort it out. The demin jacket is a D&G one I've had since I was about 12. I think I wore it about three times back then, but I've rescued it from the depths of my warderobe and I think I've worn it about three times this week which is good! Finally getting my moneys worth.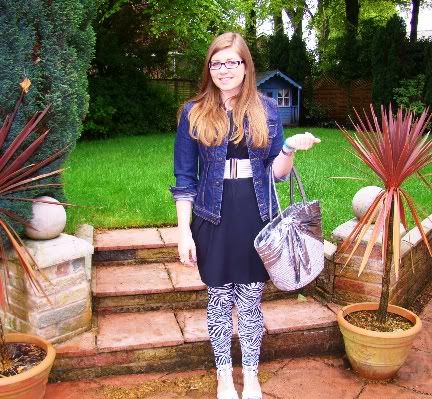 Last night I went to a chav fancy dress party - it was the most comfortable evening ever - just sat around in a tracksuit - maybe I'll do it more often! Chav is a difficult one because in my opinion, unless you go really OTT, people might think that is just how you dress. I didn't get a full length shot unfortunately, but I think the beautiful hair and makeup is enough!
Have a wonderful weekend everyone!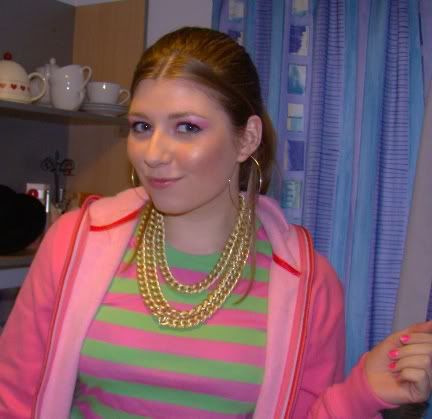 Good old K-Mo.
P.S. For those of you across the pond who are unfamiliar with the term 'chav', wikipedia describes it as 'an aggressive teenager or young adult, of working class background, who wears branded sports and casual clothing, who often engages in anti-social behaviour, and is often assumed to be unemployed or in a low paid job.' Hope that clears that up!