Firstly, I bought this ice cream today - if you haven't had one before you have to push it up and then when you've finished there are Smarties in the little stick bit. I was trying to get the stick out to enable me to consume the rainbow goodness, got a little too enthusiastic and dropped them all on the floor. They were gobbled up by pigeons almost instantly.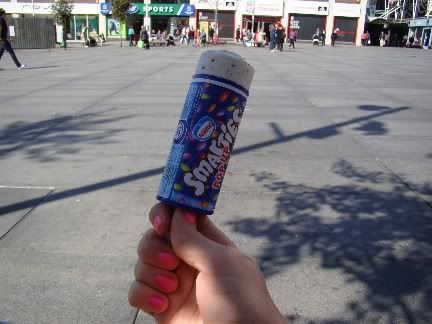 Secondly, the boyfriend got me these Gladiator sandals for part of my birthday present (only a month and a day late) from River Island. I'm not usually a massive fan of theirs because they stamp their name on EVERYTHING, but these lovelies have avoided the branding which means that they can come home with me.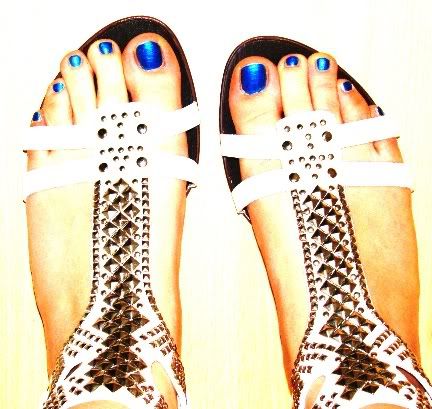 My feet aren't really a strange colour like this.
And finally, I was tagged by Ruta from
Look Ugly in Photograph
last week and have only just got round to doing it:
what is your current obsession?
Fruit Punch Vitamin Water.

what are you wearing now?
Katherine E Hamnett T Shirt, Pale blue button down skirt, Charity shop blazer, Harry the Parrot and my new gladiator sandals.

do you nap a lot?
Not so much but I'd love to have one now instead of doing revision!

what is on your desk?
Loads of revision notes, text books, a couple of boxes of accessories and a vase with a bunch of flowers in.
what would you like to learn to do? Learn how to fly a helicopter.
what's for dinner?
Tuna salad.

what was the last thing you bought?
Employment Law textbook.
what is your favorite weather?
Sunshine and snow!

do you believe in love at first sight?
No, but it would save a lot of time!

what is your most challenging goal right now?
To pass these next two exams and then find a suitable Hillbilly costume for the party I am going to (hillbilly themed) on Friday!

if you could have a house totally paid for, fully furnished anywhere in the world, where do you want it to be?
In the mountains in Wengen, Switzerland.
what would you like to have in your hands right now?
The winning lottery ticket or a blueberry muffin - either one.
what would you like to get rid of?
Employment and Medical Law exams!

what languages can you speak?
English, Bit of French and German, tiny bit of Latin and can ask for another glass of wine in Italian. Always handy.

what language(s) do you want to be able to speak?
Fluent French and German
what do you want to be when you grow up?
A solicitor

what's one thing you're looking forward to?
New York in September!

what websites you visit constantly during the day?
Facebook, Uni Website, Various Blogs, ASOS and net-a-porter.
if you were to pick up a pen right now, what would be the first thing you'd write?
Something about Employment Law

if you you could be anywhere in the world at any point in time, where would you be?
I'd be quite happy sat outside with a nice Pinot Grigio instead of in here amongst the text books.
what was the last movie you watched?
Be Kind Rewind when I was looking after my cousin at the weekend.
+ what is one of your biggest pet peeves?
I hate it when people leave rubbish in my car!!

I don't really know who to tag so if you fancy doing it.. consider yourself tagged!