Still don't have the Internet. It's getting very frustrating now. I'm at the library drowning in coursework at the moment and thought I'd share a bit of the research I've been doing. One of my essays is about Intellectual Property which concerns copyright law and patents etc. The whole idea of Intellectual Property is that it is supposed to encourage innovation because it provides an incentive/reward for the innovator - i.e. if you create something new, it should make you plenty of money and no one else should be able to benefit from this. One of the bigger areas concerning copyright is the downloading of music and piracy of films or p2p file sharing, however I don't know much about that so decided to write about the fashion industry and the role of copyright.
Whilst doing my research, I came across the Harper's Bazaar campaign, aiming to tackle the counterfeit trade. Whilst it is not a legal article, it definitely makes for an interesting read. I have never bought a counterfeit bag, just because mostly the quality of them is pretty poor, but would certainly never consider buying one after reading these articles. I'm not trying to preach, just wanting to provide an interesting read!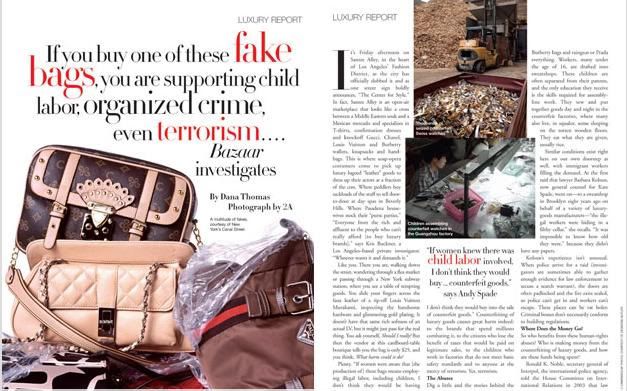 On the other hand, even though styles are inevitably copied from the runway to the highstreet, fashion houses show that there is no particular need for huge intellectual property rights as an incentive for innovation because they continue to turn out beautiful pieces for us all to lust over season after season.