The sun is shining(ish), Francisco (my car) is clean and Merry Old England seems like a nice place to be at the moment. I had a lovely day off to drive around with the roof down and go swimming at my Nan's house.

I've had a dreadful cold all week and today has been the first day it has started to ease off a bit. I don't think it was the dreaded swine flu because my constant sneezing hasn't been followed by any oinks as of yet. It meant that I couldn't continue with my five miles a week of swimming though, which is a shame.

I'm wearing the Primark rip-off of the AA shorts (I don't think I'd be able to fit in a pair of theirs, it would be too depressing to try) and a New Look mens Teenage Mutant Ninja Turtles T-Shirt. The top was in the mens section and with good old student discount ended up being about five pounds. The same thing appeared a couple of weeks later in the ladies section for twelve pounds! Ridiculous.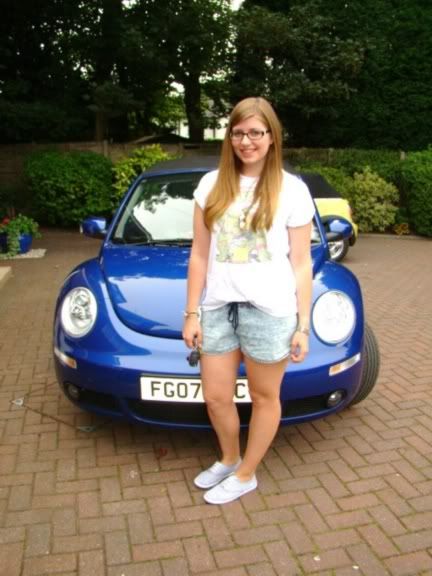 I'm off to go and watch a some friends at an open mic type evening and have a bit of a dance so I'll leave you with these lillies - possibly the most colourful things that have ever grown in our shady garden - my mother was thrilled.